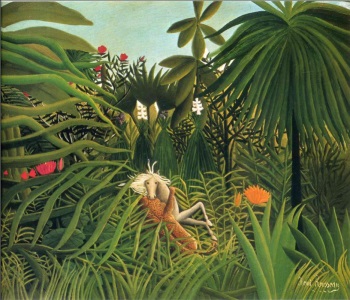 Cheval Attaque par un Jaguar (1910) by Henri Rousseau (Source)
These are two French poems I translated a long time ago, when I was still taking French. Perhaps they will be of use to somebody. The first is by Leconte de Lisle, a French poet of the mid-19th century. The poem below was published in 1862 in a collection entitled Poemes barbares. I mostly preserved the 12-syllable lines (so-called Alexandrines) and the rhyme.
The second poem is by Paul Verlaine, who was 26 years younger than Lisle but "rubbed shoulders" with him in Paris. This poem was published in 1866 in Poemes Saturniens. Here the lines are ten syllables (uninterestingly called Decasyllables). I came pretty close to maintaining the syllable count and rhyme but took more liberties with the translation. I don't like many of Verlaine's poems but this one has an atmosphere which I found compelling.